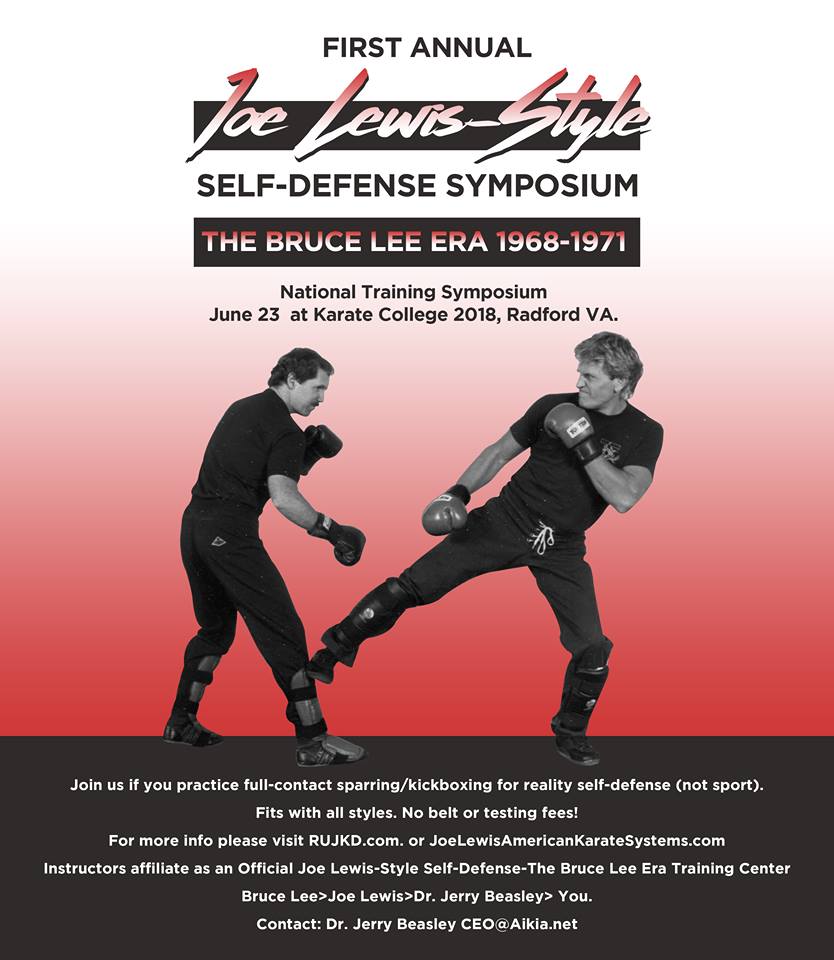 Welcome to Joe Lewis American Karate Systems.com "The Original Joe Lewis System"
Joe Lewis left the Shorin-ryu Karate system in the fall of 1967 when he was fed up with Karate politics. Bruce Lee offered a new way. Although he had just opened a new Karate school with Bob Wall, Joe decided to sell his interest in the school to Chuck Norris and follow the model that Bruce Lee had introduced teaching all private lessons to wealthy clients who could afford to pay for the equivalent of two months of group lessons in return for a single one hour private lesson. By 1968 Joe had come under the tutelage of Bruce Lee who began to coach Joe to 11 straight national championship wins over the next 18 months. Joe parted with Bruce Lee in late 1969 as Bruce planned to move to Hong Kong to do films. Bruce Lee closed his JKD clubs in January 1970.In teaching private lessons, a process we would today term being a "personal trainer" Joe created a sparring method he called the "Joe Lewis Style Self-Defense." In April 1970 Sports illustrated ran an article on Joe Lewis, his JLSSD and the new art of "Kickboxing." According to the article, Joe had recruited Greg Baines to be his opponent in what Joe expected to be called the Joe Lewis Style Self-Defense method. Joe planned to use the publicity to attract clients who would want to learn the JLSSD.
To get ready for the fight Joe purchased two pairs of boxing gloves, one for him and a pair to be worn by his opponent. At ringside that night, January 1970, the ring commentator, who had seen other kickboxing events in the same arena, saw that both fighters were wearing boxing gloves and immediately began to identify the fighters as "kickboxers" and Joe's new full-contact fighting sport as "kickboxing." While Joe had intended to use the event to promote JLSSD the term "kickboxing" stuck and for the rest of his career Joe became known as the founder of American Kickboxing. In 1970 and 1971 Joe defended his "kickboxing" title 10 times with 10 wins by the KO.
The Joe Lewis Style Self–Defense now, aka kickboxing, got a second rebranding in September of 1974. The new term and new sport was now being called "Full-contact Karate." Joe Lewis became the undisputed heavy weight PKA full-contact karate world champion in 1974. Joe was able to parlay his good looks and world fame into a successful movie career during the late 1970's. By 1981 the movie offers had died out and Joe found himself returning to his original hometown of Knightdale, NC.
When I met Joe in March of 1982 he had just turned 38 and had full intentions of regaining his PKA title. I was intent on learning the Joe Lewis system but he didn't give lessons. To learn from Joe you became his sparring partner. So for the next few years I would travel monthly to Raleigh, NC or any number of other locations to "spar." Several times each year Joe would stay at my apartment in Christiansburg, VA for a few days at a time. Once here we would create articles, organize seminar tours and spar. I made it clear to Joe that I was interesting in learning exactly what Bruce Lee had taught him.
To begin a seminar circuit Joe and I decided on the name "Joe Lewis American Karate Systems" in 1983 and an organization we called the American Independent Karate Instructors Association or Aikia for short. JLAKS was never really about "karate" with its katas and classical movements. JLAKS was about sparring and personal protection. And even more than just sparring JLAKS was about the offensive approach system (jeet kune do) taught to him by Bruce Lee. Remember that Joe at one time called it Joe Lewis Style Self-Defense and later JLSSD was called Joe Lewis American Karate Systems. Bruce Lee had asked Joe Lewis to use the name of his art, Jeet Kune do, but in 1968 Joe thought he would get more attention using the name Joe Lewis Style Self-Defense.
In the video series you are about to watch I demonstrate exactly what Bruce Lee taught Joe Lewis and what Joe Lewis taught me. Joe didn't teach this in seminars. I had to specifically make it clear that JKD>JLSSD was the subject matter I wanted to learn. In 1993, after 10 years as a sparring partner, business partner and confidant Joe issued to me the only authorization to teach JKD fighting methods that he had ever given. I had earned the 7th Dan in JLAKS in 1990 and the 8th Dan in JLAKS (which made me the highest ranked in the JLAKS) in 1995 still, the JKD certification was one-of-a-kind.
I am pleased to make available the video program describing in detail the lessons Joe Lewis taught me about the method taught to him by Bruce Lee. The video series was produced by Panther Video in 1998. The series sold thousands of copies and remained on the Top 10 list in its genre for over 10 years. Call it JLAKS or JLSSD or even JKD fighting methods. It's all the same. Train hard and I hope to see you at the annual karate college all martial arts training came held every June in Radford, VA. By the way, Joe Lewis never ever charged me for lessons or promotions. To carry on his legacy and honor his partnership with me I am making the instruction free.
Jerry Beasley
© 2018